Beacon Light Event Honors Board and Donors
Wednesday, May 17th, 2023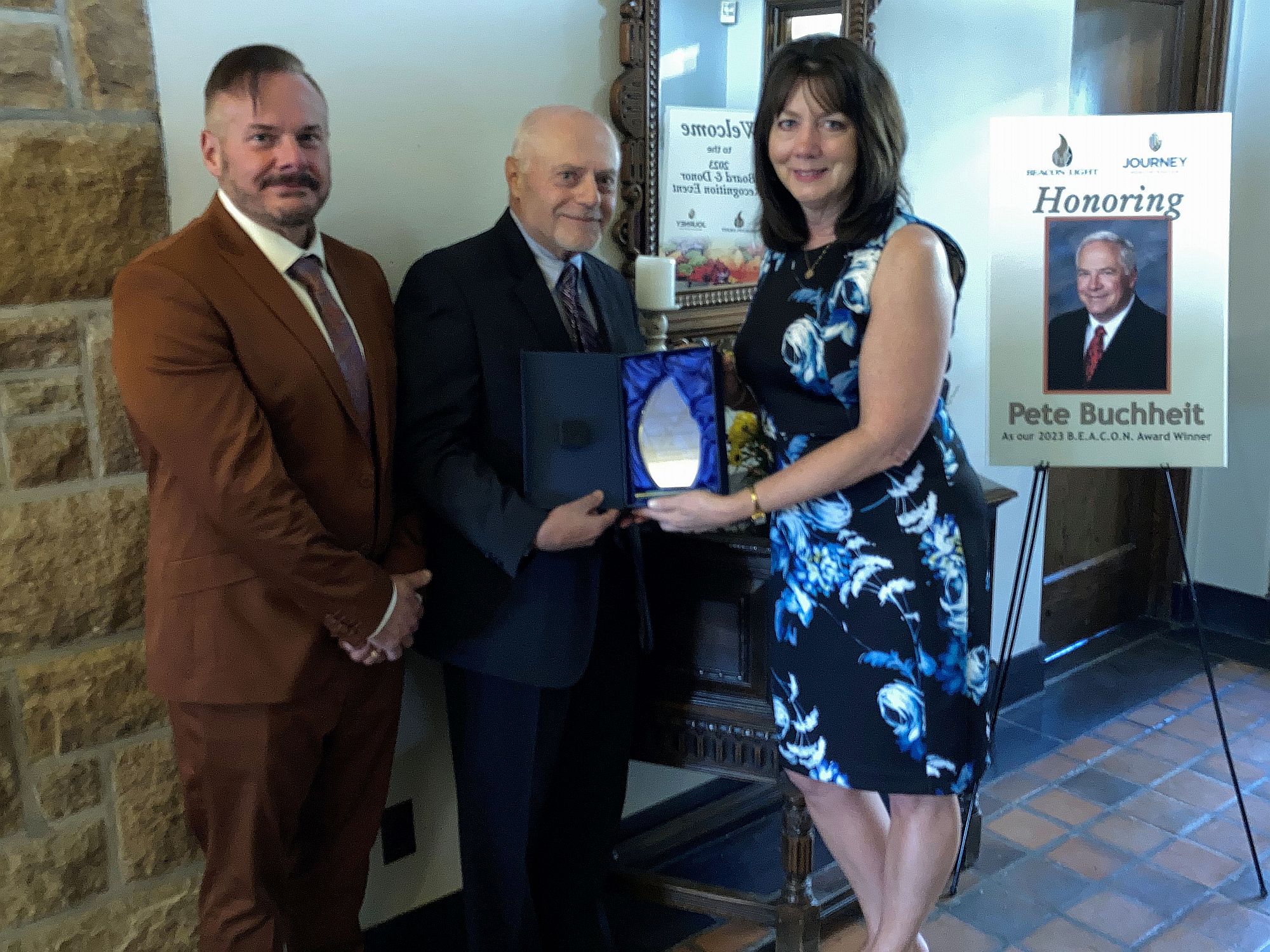 (Pictured L to R: Guy Signor, president & CEO of Journey Health System; Gregory LaRocca, chairman of the Board and Karen Buchheit.)
Beacon Light Behavioral Health System, Beacon Light Adult Residential Services and Journey Health System, held their annual board and donor appreciation event with over 75 people on May 11 at the Pennhills Club in Bradford. Agency leaders thanked board members for volunteering and the donors in the community for providing philanthropic support toward the agency's mission.

The program commenced with a prayer by Father Leo Gallina, followed by an introduction of all of the Board members. Their Board's combined total of 302 years of service was applauded along with the longest tenure of 48 years held by Bob Saunders.

In addition, a five-year service milestone award was announced for Tom Tredway, a Board member at Stairways Behavioral Health and Journey Health System.

The 2023 B.E.A.C.O.N. Award was presented posthumously to Pete Buchheit. His wife Karen accepted the award on his behalf. B.E.A.C.O.N. stands for Being an Enthusiastic Advocate for Community and Organizational Needs and is awarded each year to an individual who exemplifies service to the Beacon Light companies.

"Whether it was at work, with his family, or in the community, Pete exhibited tremendous dedication to those around him," said Guy Signor, president and CEO. "Pete played an integral role in the design and construction of many of our buildings because growth was something that Pete was definitely a part of during his time with Beacon Light."

According to Beacon Light Adult Residential Services' Executive Director, Jim Wiseman, Pete Buchheit fulfilled the perfect definition of a Board member; "A person of quality that supports the successful operation of an organization with integrity, competence, insight, dedication and effectiveness."

From 2010 to 2021, Pete served on the Journey Health System and Beacon Light Adult Residential Services Board of Directors. Pete also served on Journey Health System's Finance Committee, Executive Board Committee and the Strategic Planning Committee. He was an active member of these boards and the community at large.

"Thank you on behalf of Pete and our family for honoring his service to Beacon Light," stated Karen Buchheit. "I believe this award is about Pete's legacy and what we can learn from his example. Pete always did things because they were the right thing to do and his true reward would've been the satisfaction of making a difference. He would've been very proud of the progress that Beacon Light has made since his passing in April 2022."

The evening closed with an inspirational video regarding Beacon Light Behavioral Health System's children's programs.
Signor thanked all of the agency's staff, supporters and honorees. He also noted the thousands of children and adults who received treatment throughout Beacon Light's over 120 years of service. Each day, their programs touch more than a 1,100 individuals in some way, and whether it's in a family therapy session, a structured group home setting, a peer-led mental illness recovery journey, or alternative classrooms teaching life skills.

"It is through your efforts and commitment that our future caring for the most vulnerable members of our community is secure. So, this night is about thanking all of you," added Signor.

For more information about volunteer opportunities or donating to Beacon Light Behavioral Health System and Beacon Light Adult Residential Services, please visit www.beacon-light.org.